WELCOME TO MY PERSONAL WEBSITE
''The role that I and my research play in shaping the future is worth every effort. What I discover, contribute, and report today is not only crucial for my subject area but also for my nation and the world as a whole!..''
Click for Message as the Guest Editor for journal ''Minerals''
Recent Feature Research Papers
1-Particle shape characterization of shaking table streams in a Turkish chromite concentration plant by using dynamic imaging and microscopical techniques
2-Comparison of Particle Shape, Surface Area, and Color Properties of the Calcite Particles Ground by Stirred and Ball Mill
3-A Review of Particle Shape Effects on Material Properties for Various Engineering Applications: From Macro to Nanoscale
4-Advanced Green and Sustainable Chemical and Physical Technologies for Resources Recycling of Solid Wastes
5-Review of the Recovery of Cobalt from Secondary Resources
6-Prediction of average shape values of quartz particles by vibrating disc and ball milling using dynamic image analysis based on established time-dependent shape models
7-The Role of Particle Size and Shape on the Recovery of Copper from Different Electrical and Electronic Equipment Waste.
8-The Effect of Surface Roughness on Particle-Bubble Interaction: A Critical Review
9- Effect of particle shape on bubble-particle attachment behavior: roles of surfaces, edges and vertexes.
Free share the Link with a personalized URL providing 50 days of free access to the article with interested colleagues:
https://authors.elsevier.com/c/1i2d63QCo9j3JA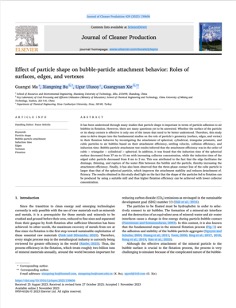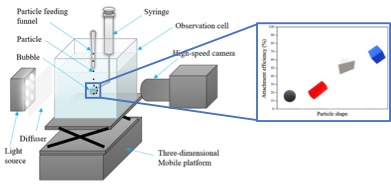 Click for more Detail:
@ My Blog
Click for "The role of minerals and importance of their beneficiation on our daily life"
Click for "Effect of particle surface roughness on the wetting of minerals"
Click for "Particle shape is one of the affecting variables on the particle-bubble attachment "
------------------------------------------------------------------------------------------------------------------------------------------------------------
"Raw materials including minerals and metals to make electric vehicles, batteries, wind turbines, and solar panels, are at the heart of the green deal since the energy transition is a switch from fossil fuels to metals. Therefore, the demand for minerals, which are essential to the growth and maintenance of civilization, is rising for the global energy transition. Since the majority of mined ores need to be processed before being turned into usable metals or finished mineral commodities, mineral processing, which is the use of physical or chemical means (gravity separation, magnetic separation, flotation, electrostatic separation, leaching, etc.) to process ores, makes contributions to all areas of technology regards to scientific concepts, engineering principles, products, and processing. In other words, the chemical industry, municipal and industrial waste treatment, and recycling, heavily utilize mineral processing technologies. Moreover, metal recycling—the process of turning scrap metal into new metal products—should be practiced to lower greenhouse gas emissions, protect natural resources, and control energy usage. A good waste collection system, separation and classification processes, and measures have been started to be taken in the world to encourage the metal recycling industry. As a result, mineral processing, particularly extractive metallurgy, which has been disregarded for years, has begun to assume a crucial role in the electrification of the world."
Mining and mineral processing is fantastic as it is the ultimate applied science using mathematics, physics, chemistry, and a whole load of other skills enabling me to think in four dimensions, examining the past to solve current and future problems.
Particulate systems impact a number of diverse industries including advanced materials, environmental, chemical, drug delivery, cell biology, pharmaceutical, mineral, energy, agricultural, and food processing. Particle science and technology deals with the production, characterization, modification, handling and utilization of a wide variety of particles in both dry and wet conditions.
--------------------------------------------------------------------------------------------------------------------------------------------------------------





Speciality: Engineering/Chemical Eng./Materials Processing and Particle Technology Engineering/Chemical Eng./Separation Processes
Keywords: Engineering, Mining, Mineral & Metal Processing, Energy & Fuels



Official web Personal web Blogspot